Pray for Karis!
Several people have asked what they can do for us.  The most powerful thing you can do is to pray for Karis' healing.  With that in mind, we have created several items that can help remind us to pray for Karis! If you place an order please consider making a donation to help us cover the cost. The price listed next to each item is the cost of production. We have no intention of making a profit on these items; we just want people to use these tools to remember to ask the Lord to heal our baby.
Donate Directly to the Almys
Many have expressed their desire to contribute directly to the Almy's financial needs. For the sake of convenience, you can donate online or by mail. To donate directly to the Almy's online, click the link below: http://tinyurl.com/katiealmy
Or, you can send your donation to:
Trevor and Katie Almy 603D McDonald Dr. Clinton, MS 39056
The Almys sincerely thank you for your kindness and generosity.
Spread The Word
Copy/paste the code below onto your blog's sidebar
Large Button HTML code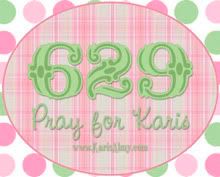 <a href="http://karisalmy.com/"><img alt="karisalmy.com" width="220" src="http://i248.photobucket.com/albums/gg186/shaunasalmon/largebutton.jpg" height="177" /></a>
Small Button HTML code

<a href="http://karisalmy.com/"><img alt="Caring for Karis | karisalmy.com" width="175" src="http://i248.photobucket.com/albums/gg186/shaunasalmon/smallbutton.jpg" height="110" /></a>